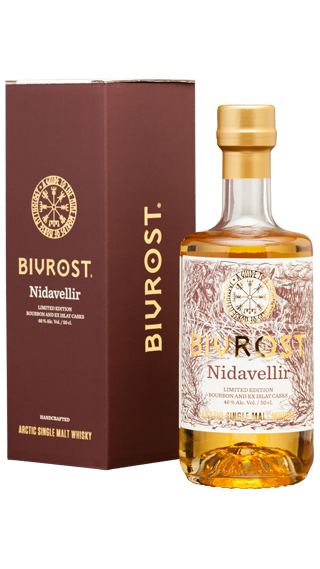 Bivrost® Nidavellir Single Malt Whisky is handcrafted under the glow of the Northern Lights, at the foot of the majestic Lyngen Alps, at 69 °N. Made from Nordic barley, fermented with glacial meltwater from the Lyngen Alps and distilled in our hi-tech still. Matured in Bourbon and ex Islay casks.
Bivrost® Nidavellir is the second whisky in the "nine worlds of Norse mythology" series.
NOSE
Honey porridge and floral sweetness, light peat.
PALATE
Sweet, grainy, slightly medicinal peat and Vanilla clove spice
FINISH
Long and pleasant finish, with notes of peat.
FLAVOUR
Sweet, rich and slightly peated style.
ENJOY WITH
Friends, yourself, a drop of water or however you like your Whisky.
MYTHOLOGY
Nidavellir is one of the nine worlds of norse mythology. It is described as a dark place with golden halls. The king in Nidavellir is called Hreiðmar and because of greed, his son was turned into a dragon – Fafnir – who guards the kings hall. Later Fafnir is killed by Sigurd and his sword "Gram". Nidavellir is home to the dwarves that forged the chain "Gleipnir", which they used to bind the wolf Fenrir.
The description of Nidavellir comes from "Voluspa", which is the first and best known poem of the Poetic Edda (Collection of old Norse poems). It tells the story of the creation of the world and its coming end, related to the audience by a völva (seeress) addressing Odin. In the poem of Völuspá it says: "Stóð fyr norðan á Niðavǫllum salr ór golli Sindra ættar, ęn annarr stóð á Ókólni, bjórsalr jǫtuns,ęn sá Brimir hęitir". This part of the creation poem of Völuspá connects the bloodline of Sindri to a Viking called Sindri to a golden hall and there is aslso giant called Brimir.
CREATION
Bivrost® Nidavellir Single Malt Whisky is handcrafted under the glow of the Northern Lights, at the foot of the majestic Lyngen Alps, at 69 °N.
YEAST: Brewers yeast. Saccharomyces eubayanus, Lager yeast.
MALT: Pilsener Malt, made from Planet and Popino Nordic barley.
WATER: Water sourced from Elvejordvannet, which receives melted glacier water from the Lyngen alpine range.
DISTILLED: Single distilled with two active plates  in our copper pot/column still. Average distillation time ranges between 8 – 10 hours, average strength heart collected of undiluted new make is around ~75%abv.
CASK HANDLING: Nidavellir is matured in predominantly bourbon quarter casks and barrels from Heaven Hill but were finished in some special casks from a famous Islay distillery. The casks used for finishing the Nidavellir are French Oak casks (European Oak) which were initially used by a renowned winery in New Zealand to mature their Pinot Noir. The wine spent 12 months maturing in these new oak casks.
These casks were then purchased by an Islay distillery for a limited edition, they were charred and scored inside to release more flavours. Aurora Spirit has purchased 6 of these casks to use as finishing casks for Nidavellir. They were filled in the freshest and most excellent condition within 2 months of being emptied. Our 32 month old spirit was transferred into these Islay casks in May 2020 for the final 5 to 6 months maturation. These are exceptional casks and we are very lucky having been able to purchase them.
The whisky will pick up the deep cherry and summer pudding notes and much of the flavour of Islay whisky but in particular it will give Nidavellir a slight peaty edge both on the nose and in the flavour profile.
Nose:
Initially a real burst of fresh vanilla pod and frangipane bakewell tart with rich maraschino cherries. Soft and sweet smoke mingles with dark chocolate poached pears and black pepper notes.
Palate:
An exquisite mouthfeel that really coats your tongue and brings with it wonderful waves of delicate sweet smoke with black pepper spice. The smoke then makes way for more vanilla with frangipane and Battenburg cake sweetness laced with more rich maraschino cherries. Then later the dark chocolate poached pears reappear this time with a warming sweet tobacco cigar smoke.
Finish:
Long and lingering with sweet smoke, almonds and maraschino cherries.
Overall: A very well balanced and absolutely delicious whisky. Sweet delicate smoke combines perfectly with vanilla, almonds and maraschino cherries to make for a very special whisky.